Victoria stabbing: Woman guilty of Sofyen Belamouadden killing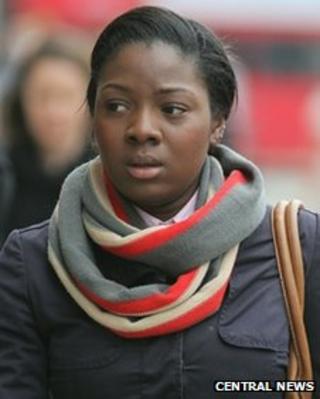 A woman has been found guilty of killing a teenager who was stabbed to death at a London Tube station.
Victoria Osoteku was convicted of the manslaughter of Sofyen Belamouadden by a majority verdict at the Old Bailey.
Osoteku, 19, from Deptford, south-east London, was found guilty on Monday of conspiracy to cause grievous bodily harm.
Sofyen, 15, died after being chased by a crowd of youths into Victoria Tube station in March 2010.
Kicked dying boy
He was stabbed nine times and suffered wounds to his heart, a lung and major blood vessels.
Osoteku, the only woman charged over the killing, was said to be at the centre of the attack.
The court heard that she bought a set of knives from Argos with a 17-year-old youth at lunchtime and gave them to the gang ahead of the clash between two west London schools.
She also sent messages by phone and on Facebook to set up the confrontation.
The court heard that she was behind a youth who led the charge with a Samurai sword.
Other youths were armed with a flick knife and a Swiss army knife, machetes and screwdrivers.
The court saw CCTV footage of Osoteku kicking Sofyen in the head as he lay dying on the ground.
She denied the allegations during the five-month trial saying she had not kicked the teenager.
She said: "I just went to see if he was ok and I nudged him with my foot to see if he was ok."
'Heavily armed'
Mark Heywood QC, prosecuting, said: "She was one of those who set up and organised the confrontation that led to the death.
"Her responsibility for the death is very great indeed, even though it was others that delivered the final fatal blows that led to Sofyen Belamouadden's death."
He added: "They were so heavily armed that no smaller group, or even police officer or member of station staff, could withstand them or stop them."
She has been remanded in custody to be sentenced at a later date with others convicted of the killing.
She is the fourth person convicted of manslaughter.
Adonis Akra, 18, Samuel Roberts, 19, and Femi Oderinwale, 18, were found guilty of manslaughter during earlier hearings.
Last May, Obi Nwokeh, 19, and Christopher Omoregrie, 18, were found guilty of murder, with Samson Odegbune, 18, convicted of murder in August.
A 17-year-old and 19-year-old have been convicted of conspiracy to cause grievous bodily harm.
Four youths have been sentenced for violent disorder. Three were cleared of all charges.
Four others are still to face trial on various charges.