Peter Attwell jailed for killing his cousin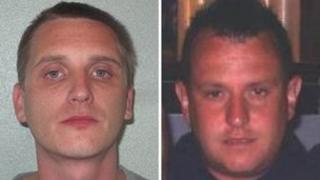 A man has been jailed for manslaughter after he threw a concrete block at his cousin who then died after he lost his balance and hit his head on the ground.
Peter Attwell, 32, ran almost the length of a football pitch to hurl the block at father-of-six Paul Coleman.
Everyone thought the block had hit him as he was unconscious after he fell to the ground but a pathologist said there was no sign the block had hit his head.
Attwell, of Bermondsey, was sentenced at the Old Bailey to six years.
He was cleared of murder but admitted manslaughter.
Jeremy Donne QC, prosecuting, said the 35-year-old had the "classic signs" of having hit his head in the road after losing his balance.
'Regret'
The court heard the cousins rowed after they left a family party in Coulsdon, south London, in the early hours of 14 August, 2011.
Mr Donne said: "That argument ended when the defendant picked up a concrete block and ran in excess of 80 metres (260ft) before hurling it at the head of his cousin.
"The block must have passed so close to the victim's head that everyone thought it had actually hit it."
He added: "A football pitch is 300 feet (91m) long, so he ran 18 feet (5ft) short of a football pitch to do that."
Melissa Coleman said in a statement about her husband: "Paul was everything to my family and now we are facing a future without him."
Andrew Campbell-Tiech, QC, defending, said Attwell was full of remorse and would regret what he had done for the rest of his life.
Judge Anthony Morris told Attwell he accepted that the act had been out of character.