Hundreds gather for Territorial Army parade in London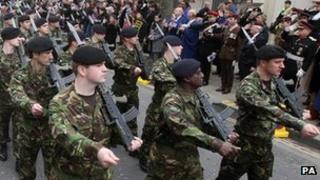 Hundreds of people have lined the streets of west London to honour about 150 Territorial Army (TA) reservists.
The soldiers, who are members of the Royal Yeomanry, marched with Guidons (Colours), their regimental band, and four tracked vehicles called Spartans.
The unit, which was given the freedom of Kensington and Chelsea a decade ago, was then honoured at a civic reception for their service in Afghanistan.
Capt Matt Fincham said the parade was a way of connecting with the community.
"It's the community from which the soldiers are drawn," he said.
"Therefore it's important to show that we are here because historically most TA people haven't talked about what they do and it's being done behind closed doors, so people don't necessarily appreciate that their next door neighbour, for example, does this."
'Equal job'
The Royal Yeomanry has held the Freedom of the Royal Borough of Kensington & Chelsea since 2002 and was recently awarded the Freedom of the London Borough of Hammersmith & Fulham.
Some of the soldiers, who serve alongside the regular army, say they are hoping to deploy to Afghanistan in the coming months.
Trooper Darren Thorpe, a 20-year-old electrician from Croydon, has volunteered for a tour there later this year.
He expressed appreciation for the people who turned out to show their support for him and his comrades.
"Some people forget about the TA and don't realise how much TA soldiers deploy out there and do an equal job," he said.
The unit will parade through Hammersmith and Fulham at 15:00 GMT on Sunday, where soldiers will set off from St Paul's Church.
A salute will be taken outside Hammersmith Town Hall and there will then be a medal ceremony where several of the soldiers on parade will receive Volunteer Reserve Forces Service Medals and Overseas Service Medals before the civic reception.