London 2012: 'Strings attached' LU pay offer rejected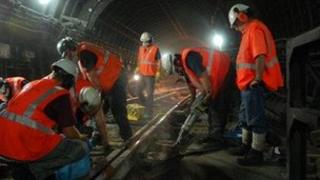 Union leaders representing engineering staff have rejected London Underground's (LU) £850 offer for working during the Olympics because of "unacceptable conditions" attached.
The union Unite said LU was demanding "unlimited flexibility" for an indefinite period after the Games.
LU said it had been "absolutely clear" in defining the flexibility needed.
The same offer has been made to the Rail Maritime and Transport (RMT) union, which has yet to respond.
Unite's regional officer John Morgan-Evans said during three days of negotiations at the conciliation service Acas LU made no mention of asking for "unlimited flexibility" until a letter was sent two days later.
He said: "Unite was prepared to accept the deal, but the strings attached are totally unacceptable.
"It would be irresponsible to accept this deal as it would put our members' health and safety at risk.
"Our members have been asked to agree to limitless changes to hours and place of work at short notice, not only during the games but for an undefined and potentially indefinite period after the games are over.
"We can't give London Underground a free hand to make such changes outside of the normal processes of negotiation.
"This has never been just about reward. It is also about protecting the health and family life of our members."
'Happy to clarify'
Phil Hufton, LU's Asset Performance Director, said: "We have had productive discussions with the unions and put forward our proposals about how we can fairly reward staff.
"We have put forward an offer which would see station, maintenance, service control staff and operational managers receive up to £850 for working flexibly during the 2012 London games, subject to attendance, customer satisfaction scores and agreement from operational staff to work flexibly in order to deliver a successful games."
Mr Hufton said LU had been "absolutely clear" in defining what flexibility was needed and at no point asked the union to surrender its negotiating rights.
He added: "We are disappointed that Unite's leadership has misunderstood our offer, but we are of course happy to clarify this at any time.
"We know our employees want to play their part in delivering a great games for London, so reaching agreement on this will allow all of us to focus on that exciting challenge together."