Antoni Imiela trial: Jailed for previous sex attacks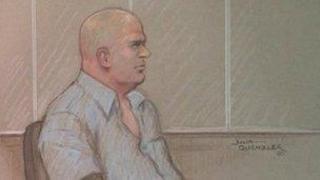 Jurors in a rape trial have been given details of the defendant's convictions for violent sex attacks on seven women.
Antoni Imiela, 57, was jailed for life in 2004 following rapes across south-east England, all involving women he did not know, the Old Bailey heard.
Jurors were given a short summary of what occurred in each of the attacks.
Mr Imiela is on trial accused of raping a woman in south-east London early on Christmas Day in 1987. He denies the offence.
In each of the seven rapes for which was convicted, the victims were grabbed, punched and threatened. Some were tied up, the court heard.
Prosecutor Richard Hearnden told the jury that Mr Imiela's minimum term of eight years meant he became eligible to apply for parole on 4 March this year.
Cold case
In the case being tried, Mr Imiela also denies indecent assault and another serious sexual assault.
He says he had consensual sex with Sheila Jankowitz, who died in 2006.
The court has heard that Mrs Jankowitz said she was dragged behind a shed, repeatedly punched and threatened with a brick during the attack.
Mr Hearnden previously told the jury: "Between November 2001 and the autumn of the following year, in a savage and perverted campaign against total strangers, Antoni Imiela raped seven other females.
"He was linked to each of those rapes by the presence of his DNA. He denied those offences and he stood trial for them. In March 2004 he was found guilty of those rapes by a jury."
Mr Imiela was charged with the attack on Mrs Jankowitz after a cold case team reviewed the case and DNA evidence.
The trial continues.