Damilola Trust says lack of youth services puts young at gangs risk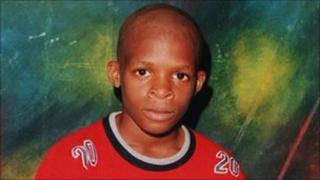 A lack of youth services is putting innocent children at risk of being caught up in gangs and violence, the Damilola Taylor Trust has said.
Gary Trowsdale, the charity's chief executive, said youngsters hang around on the streets due to the lack of other options as schemes are cut back.
Mr Trowsdale, who helped set up the trust, was speaking as he launched this year's Spirit of London Awards (Sola).
Damilola, 10, was killed in Peckham, south-east London in 2000.
The scheme sees celebrities praise young people who use their time and skill to help build strong communities.
Saving lives
"The lack of youth services is putting at risk the innocent children who don't have any choice but to be on the streets in their communities," Mr Trowsdale said.
Sola, which now has more than 100 young ambassadors, was set up with the aim of reducing crime and saving lives by helping young people to reach their full potential, Mr Trowsdale said.
"That needed to be the legacy of Damilola," he said.
Damilola had moved to Britain from Nigeria a few months before he was attacked with a broken beer bottle by a gang of youths as he walked home from the local library after school.
Two brothers, Danny and Ricky Preddie, were convicted of manslaughter and jailed for eight years in October 2006.
This year's Sola show at Wembley Arena on 22 November will see up to 10,000 people attend what is being billed as the biggest ever live urban youth awards, just five days before the 12th anniversary of Damilola's death.
Sola launched a search for the nation's young campaigner of the year, aged 14 to 25, who will be honoured at the star-studded ceremony in November.