Go-ahead given to charge utilities for London roadworks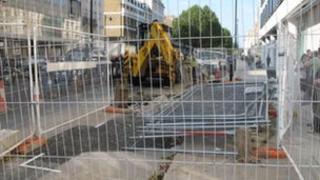 London will make utility companies pay for the amount of time they take digging up the busiest roads, the city's mayor said.
The Department for Transport has approved a scheme allowing Transport for London (TfL) to charge companies up to £2,500 a day.
The charges will apply on 330km (205 miles) of roads and start from June 11.
Thames Water said it was already in the company's interests to complete work as "speedily as possible".
Mayor of London Boris Johnson said the charges would encourage companies to complete works at the least disruptive times.
He added that it would "further tackle the scourge of shoddy and badly managed roadworks".
The charges will only apply on roads managed by TfL, known as red routes.
'Digging costs money'
Thames Water, which digs up London roads to replace 200km (124 miles) of worn-out pipes every year, said it already worked to complete roadworks swiftly.
Simon Evans, media relations manager, said: "Having men and machinery digging up streets costs money, so it is in our interests to get our work done as speedily and efficiently as possible."
He added that the company had been working with policy-makers to make sure work was carried out with "the minimum of disruption".
He said: "Until these new measures are implemented we don't know how much it will cost us, nor how exactly it will impact on our works, but we are determined to work with TfL to make it a success."
Mr Johnson has pursued a number of tactics, responding to public criticism of lanes being left closed for long stretches with no work taking place.
In January 2010, he introduced a scheme which meant companies had to apply for a permit to be able to dig up roads.
In September last year, an IT system was launched for members of the public to report disruptive or badly managed repairs.
By the end of this financial year, serious and severe disruption caused by roadworks on London's red routes is expected to be down by almost 40% since permits were introduced, said TfL.
Peter Hendy, London's transport commissioner, said: "By introducing a lane rental scheme in London, we can now physically and fiscally encourage roadworks to take place outside the busiest hours."
TfL said traffic-trained police community support officers would help monitor the lanes "rented" by utility companies.