London 2012: Police warning over fraudulent tickets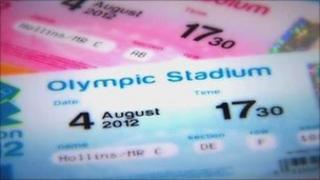 The Metropolitan Police have issued a warning over advertisements for tickets for the London 2012 Games.
The force said ticket advertisements had appeared in the national and international media featuring a mobile phone number or email address.
It said the public risked paying for tickets that do not exist and personal details could be stolen.
It is illegal to advertise or sell an Olympics ticket without authorisation from the event organisers.
Det Supt Nick Downing said: "Please do not attempt to buy tickets from adverts such as these."
He added: "Your personal details may be stolen and used in other crimes.
"The safest way to buy tickets for the Olympic and Paralympic Games is from the London 2012 website."
A spokesman said specific details on the vendors under suspicion of fraudulent ticket selling could not be released.
Advertising or selling a ticket for the Olympic or Paralympic Games without authorisation from Locog carries a fine of up to £20,000 for each offence.