Gagandip Singh murder: Family wants longer sentence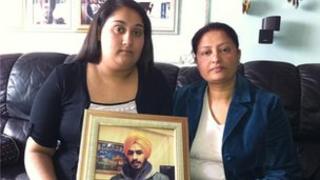 The family of a murdered Sikh TV boss are demanding tougher punishment for a woman accused of luring him to his death.
Gagandip Singh's mother and sister have asked the attorney general to review the sentence handed to Mundill Mahil.
Mahil, 20, was sentenced to six years for grievous bodily harm.
Mr Singh's body was found in a burning car in Blackheath in south-east London in February 2010. He had been violently attacked.
"Other cases involving money and fraud get much more [punishment]," said Mr Singh's sister Amandip, 19.
"This is a life that has been taken. So I believe something more needs to be done."
Speaking to the BBC in the family's first interview since the end of the trial, she said Mahil could be released for good behaviour in three years.
The business studies student said she and her mother have set up an e-petition called Justice for Gagandip calling for a longer sentence.
They wrote last week to the attorney general, who now has 28 days to consider the matter.
If he thinks there are grounds to contest Mahil's sentence he will pass it on to the Court of Appeal to review.
Medical student Mahil was one of three people jailed in February over the death.
Harinder Shokar, 20, from Greenwich in south-east London, was given a life sentence for murder.
Darren Peters, 20, from Blackheath, south-east London received 12 years for manslaughter.
Successful company
The family say Mr Singh, 21, had the world at his feet.
He ran the family's successful packaging company. He also set up and headed a television channel called Sikh TV.
In addition he was the founder of the British Sikh Student Federation.
"He had done so much," his mother Tejinder, 45, said.
"I didn't think a 21-year-old would be capable of so much. I'm amazed how much he achieved."
But his life was brought to an end when he was lured to Brighton by Mahil.
Mr Singh was besotted with her. But their friendship had cooled after he allegedly tried to rape her.
She had invited him to her house for what he thought were talks to clear the air.
But instead Shokar, a former close friend of Mr Singh's who was also in love with Mahil, was lying in wait for him at her house.
He violently attacked him and with the help of Darren Peters bundled his unconscious body into the boot of a car, drove it to Blackheath and set it alight.
Mrs Singh said she is devastated by the killing and has struggled to cope.
She said: "In my life there's only a dead end. There's nothing left ahead. The whole story has finished here."
She added: "Mundill wanted to marry Gagan but I told Gagan he couldn't. He was still young and had his whole life ahead of him. Yes this was a revenge attack.
"Not for rape. But because I would not allow her to marry him."
It is the second tragedy for the family. Mr Singh's father Charanjit was shot and killed on a visit to India in 2009.
You can hear more on this story onAsian Network Reportson theBBC Asian Network