Businessmen in High Court battle over top London hotels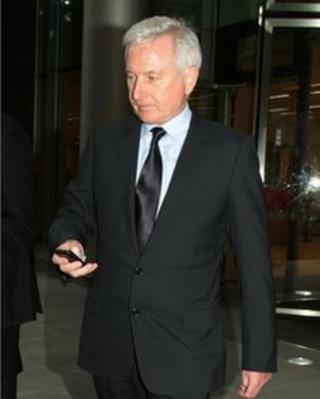 Three leading businessmen are in a High Court battle over the control of three of London's most famous hotels.
Paddy McKillen, from Belfast, wants to block a "takeover plan" by twins Sir David and Sir Frederick Barclay.
All three entrepreneurs invested in Coroin, the company which owns the Connaught, Claridges and the Berkeley.
Mr McKillen claims "company affairs" have been conducted in a "manner unfairly prejudicial to his interests" and wants damages.
The Barclay brothers deny Mr McKillen's allegations.
In written arguments given to Mr Justice David Richards, at the High Court in London on Monday, Philip Marshall QC, for Mr McKillen, said the Coroin company was set up in 2004 to buy hotels.
He said Mr McKillen was a director and "substantial shareholder".
Mr Marshall said the shareholders' relationship was based on "trust and confidence" and an agreement contained "express obligations of good faith".
'Complete control'
Mr McKillen had been the "most active" shareholder and had overseen "developments" which had been a "success", said Mr Marshall.
The value of "the hotels" had increased from £530m to £985m over six years and Coroin was worth more than £1bn, he added.
Mr Marshall earlier said the Barclay brothers were "well known businessmen" whose interests also included London hotels the Ritz and Cavendish.
He said the Barclay brothers had made attempts to obtain "complete control" of Coroin and used "various tactics" which involved "infringements" of Mr McKillen's rights under a shareholders' agreement.
Mr McKillen contended that he had been a victim of "unlawfulness" and "unfairly prejudicial conduct", he said.
"Both Sir Frederick and Sir David deny the allegations against them," said Lord Grabiner QC, for the Barclay brothers, in written submissions given to the judge.
"It is clear that these serious allegations have been made for tactical reasons, to try to embarrass Sir Frederick and Sir David and to tarnish their reputations."
Lord Grabiner added: "What Mr McKillen does not want or like is that he may be squeezed out of Coroin because he cannot afford to stay in (pay the sums required to put Coroin on a sound financial footing).
"Sir Frederick and Sir David cannot be held responsible for this.
"It is a fact of life that if you want to be a shareholder of a company with a value approaching £1bn, but you have no money, you are likely to lose out in the end."
He said what the Barclay brothers had done was "lawful" and "certainly intended and believed to be lawful".
The hearing is expected to end next month.