Barclay brothers 'faced secret hotel buy-out bid'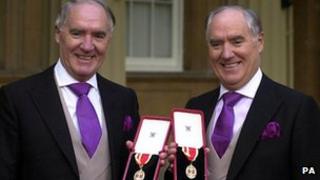 A property developer embroiled in a High Court battle with the Barclay brothers has been accused of "secret" attempts to buy them out of a firm.
Patrick McKillen is fighting Sir David and Sir Frederick Barclay for control of Coroin, which owns Claridge's, the Connaught and the Berkeley hotels.
Mr McKillen, from Belfast, wants to block a "takeover plan" by the twins.
But the court heard he tried to work with an investor from Singapore to buy them out.
All three were investors in Coroin.
Mr McKillen was questioned by Kenneth MacLean QC, who represents firms controlled by the Barclay brothers.
Mr MacLean suggested that in 2011 Mr McKillen was making "secret" attempts to find backers to buy out "Barclay interests".
He suggested that Mr McKillen was trying to "put together" an "arrangement" with the Singaporean investor.
Mr MacLean asked about a document which, he said, seemed to relate to the "arrangement".
'Convenient amnesia'
Mr McKillen indicated that he did not recall the document.
Mr MacLean retorted: "Your amnesia in relation to this document is very convenient."
The Barclay brothers allege that what Mr McKillen objects to the possibility he may be "squeezed out" of the firm because he cannot afford the sums needed to put it "sound financial footing".
But Mr McKillen said: "I could have raised the money."
The case continues.