Woman's eyes burned in chemical mugging in Mitcham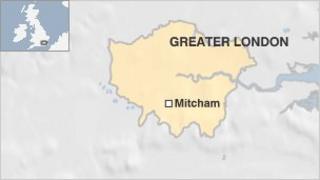 A woman had the top layer of both eyes burned off in an unprovoked chemical attack in south London by two females that left her temporarily blinded.
The victim, 21, had just left Croydon Tramlink, Mitcham, when she was approached by two women holding what appeared to be a water bottle.
Police said without warning, one of the suspects sprayed the contents of the bottle into her face, burning her eyes.
They then stole her purse which contained £15 in cash.
Suspects on tram
Despite her injuries, the victim managed to call 999 following the incident at about 16:00 GMT on 4 March. Her face was swollen and she had lost her sight.
She was released from hospital later in the evening but will have to return regularly for further specialist treatment, officers said.
Medical examination has shown that the top layers of both eyes have been burned off.
Although police said the victim's eyesight was improving, medical treatment will have to continue.
It is not yet known what the liquid was and further tests are being carried out to identify it.
The two suspects were travelling on the same tram as the victim and detectives think they may have targeted her because she was alone and carrying shopping bags.
Two people have been arrested and bailed pending further inquiries.
Police urged anyone who saw the attack and could identify the suspects to come forward.
The first attacker was described as a black woman with long wavy hair.
She wore a woollen hat and a jacket with a fur-lined hood or collar.
The second robber was also described as a black woman, with long hair and a fringe.
She was wearing a short black leather jacket and green tracksuit trousers with three white stripes down each side.
'Many witnesses'
She was also wearing a black scarf which she used to wrap around her head before the attack.
Det Con Simon Callcot, said: "This young lady has been subjected to an appalling and completely unprovoked attack which may result in her sight being permanently impaired.
"I know that there are many people who may have witnessed the attack or who may have seen the suspects on the tram.
"It is vital that any person who saw the attack contacts me to assist in the investigation."