Woman injured as car hits Battersea house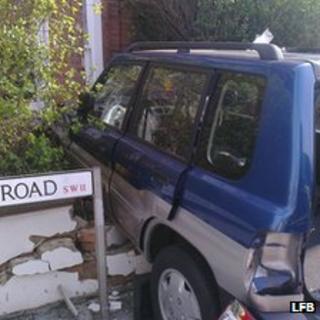 A 43-year-old woman had to be freed by firefighters after the car she was driving ploughed into a terraced house in south-west London.
The large blue vehicle smashed through the front wall of the period property in Cambridge Road, Battersea, at about 12:45 GMT.
It had sufficient momentum to then hit the front wall of the house, causing possible structural damage.
Some 20 firefighters worked to free the woman, who may have been badly hurt.
Wandsworth Council's structural engineering team attended and had to prop up the outside of the house.
London Fire Brigade station manager Lisa Hicks, who was at the scene, said: "Firefighters used cutting equipment to cut the boot and back seats out of the car.
"They then placed the driver on to a spinal board and carefully removed her from the car.
"There was another woman in the house at the time. Thankfully she was uninjured."
'Propping up' house
London Ambulance Service said the woman, who had a "reduced level of consciousness", was taken as a priority to St George's Hospital in Tooting.
She was suffering from shoulder and back pain.
A spokesman for Wandsworth Council said: "The building control team was on the scene within 15 minutes and we are going to be propping up the house to secure the building."