Yemurai Kanyangarara killing: Boy of 16 'had no chance'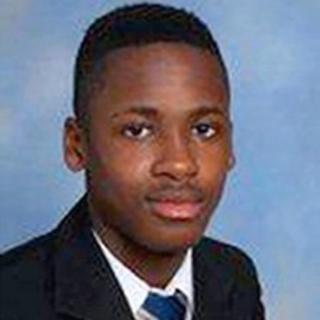 A 16-year-old boy was surrounded and stabbed in broad daylight in front of passengers as he got off a bus in south-east London.
Yemurai Kanyangarara, of Belvedere, was attacked seconds after getting off a 96 bus in Upper Wickham Lane in Welling on 1 July 2011, the Old Bailey heard.
The prosecutor said: "Yemurai had no chance" as vital blood vessels in his neck were severed and he bled to death.
Three boys, two aged 16 and a 15-year-old, deny murder.
The victim was on the bus with a friend and had not realised that the other youths had targeted them when the pair passed them on a bus in Bexleyheath, prosecutor Peter Finnigan QC said.
'Forceful motion'
The attackers, armed with two knives, got off their bus as soon they spotted the victim, the jury heard.
As Yemurai, who was a student of St Columba's Catholic Boys' School in Bexleyheath, got off the 96 bus he was surrounded and stabbed in the neck.
One of the attackers "walked right up to Yemurai and almost immediately could be seen to move his right arm from high to low in a decisive, forceful motion towards Yemurai's head," Mr Finnigan said.
Yemurai collapsed close to the bus stop and bled to death from the 3.5in (9cm) wound. Passengers tried to help him but in vain.
The court heard the murder weapon has not been found but officers found a second knife, containing the 15-year-old defendant's DNA, along the route the attackers took to flee from the scene.
The case continues.