Donna Air in court over alleged parking permit fraud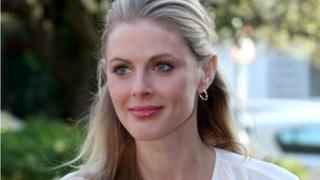 TV presenter Donna Air fraudulently applied for a parking permit to avoid paying more than £5,000 in on-street parking charges in west London, a court has heard.
Ms Air, 32, from Newcastle, is charged with fraudulently obtaining a parking permit by false representation from the Royal Borough of Kensington and Chelsea on 21 January last year.
The former Byker Grove star is on trial at Isleworth Crown Court.
She denies the charge.
Ms Air already had a parking permit in Westminster when she applied for another permit for her cream Mini Cooper in Kensington and Chelsea, the court heard.
'Pressure on parking'
Drivers are not allowed to have two central London permits for the same car and the court was told Air had signed a declaration as part of her application which said she did not already have a permit for the vehicle.
Prosecutor Adrian Chaplin said there were enormous pressures on parking spaces in the boroughs of Westminster and Kensington and Chelsea.
He said: "Those who drive in from out of town have to contend with the parking charges levied upon them.
"The charges are considerable."
Mr Chaplin said Ms Air paid Kensington and Chelsea £110 for a 12-month permit.
Without it she could have faced annual on-street parking fees of up to £5,760 to park close to the flat she owned in the area.
He added: "These are two central London boroughs with pressure upon parking and a resident's parking permit for either is a worthwhile thing to have."
He told the court it was not in dispute that the form she signed had a declaration asking if she held a permit elsewhere but he told the jury it would have to decide whether her conduct was dishonest.
"Did she set out dishonestly and intending to make a gain for herself to fill out the form and did she sign something she knew was untrue or misleading?" he asked.
"In applying for a resident's parking permit, anybody is intending to make a gain for themselves.
"They are intending to gain the permit."
The case continues.