'Prowling' gang 'shot professional dancer' in South Norwood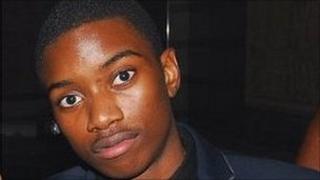 A gang went "on the prowl" with a loaded gun in south London and shot dead a professional dancer as he left a club, the Old Bailey has heard.
Daniel Famakinwa, 20, was killed near a snooker hall in South Norwood on 6 August as he waited for a night bus.
Ezekiel Charles-Sterling, 19, of Upper Norwood, is accused of firing the fatal shot.
He is one of six men, all aged between 18 and 19 and from south London, who deny murder.
The other suspects are Romelle Bogle, of Brixton; Joshua Chieke, of Stockwell; Christopher Perry, of Streatham; Adrian Rhodes, of Stockwell, and Demmar Dawkins, of West Norwood.
Prosecutor Aftab Jafferjee QC said: "It is the prosecution case that this is a teenage gang on the prowl in London with a loaded firearm.
"And that their idea of a good night out is the inevitability of confrontation - either seeking it or at least anticipating it - secure in the knowledge of their shared secret.
"Namely that they will triumph in any confrontation because they have a gun and are more than prepared to use it."
Mr Famakinwa left the snooker hall - which doubled as a dance venue at weekends - at about 03:45 BST.
He was then targeted while waiting with friends at a bus stop on Norwood Road, the court heard.
Mr Jafferjee said: "Barely 20 minutes after Daniel had emerged from the club and as they waited on the Norwood Road for the night bus to arrive, doing nothing more than larking about amongst themselves, Daniel lay fatally bleeding having been shot."
The other five defendants "egged on" gunman Mr Charles-Sterling, the court heard.
'At it again'
Mr Rhodes allegedly aimed a flying kick at Mr Famakinwa as he and his friends were hemmed in against a shop front.
The court also heard that a month later, the group - minus Mr Charles-Sterling - shot at someone else outside a nightclub in the City of London.
Mr Rhodes is accused of firing a 9mm pistol on that occasion.
Mr Jafferjee said: "Barely four weeks later they are at it again.
"Far from being undeterred by the scale of the tragedy they had collectively inflicted, they surfaced outside yet another nightclub.
"Yet again the gun is fired - but mercifully the bullet does not strike its intended target."
Mr Charles-Sterling is charged with possession of a firearm with intent to endanger life and possession of a prohibited firearm.
The other defendants faces two counts of the above charges.
All the firearms offences are denied.