Metropolitan Police in major West End crackdown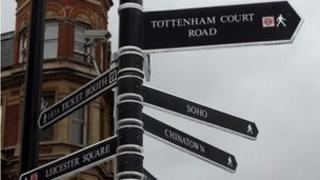 Police have launched what they say is the "biggest ever" crackdown on crime in London's West End.
Operation Trafalgar will put up to 400 extra officers on patrol on the busiest nights of the week for a six-month period until the end of September.
The operation will see mobile watchtower-style look-out posts being set up at key road junctions in the West End.
The Met described it as a "New York-style" crackdown.
New York underwent a high-profile crime crackdown under mayor Rudolph "Rudy" Giuliani in the 1990s.
Areas attracting hundreds of thousands of visitors such as Soho, Leicester Square, Piccadilly and Covent Garden are included in the new scheme.
The police hope to reduce robbery using tactics including high visibility patrols, roadside checks and a clamp down on illegal traders.
The operation will also see an area near the Eros statue in Piccadilly being set aside to provide a place of sanctuary for vulnerable, drunk or lost people every Thursday, Friday or Saturday.
The sanctuary will include a tent where vulnerable people will be offered advice and comfort by volunteers.
Assistant Commissioner of Territorial Policing, Simon Byrne, said: "Operation Trafalgar is about enhancing safety and enjoyment in the West End.
"It builds on recent work we have been doing in Westminster to put significantly greater numbers of police officers on patrol at key times during the evenings where we have had problems in terms of violence and disorder."
Ch Supt Simon Ovens said: "All my officers will ensure that anyone who is violent, too drunk or committing anti-social acts will be arrested and dealt with robustly.
"If you come to the West End to break the law or cause trouble, expect to spend the night in my cells."