Yemurai Kanyangarara accused 'quizzed over previous stabbing'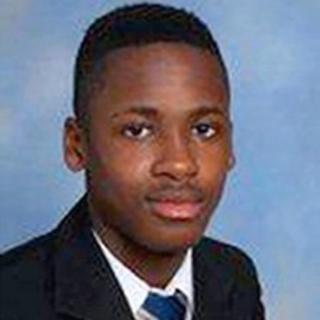 A teenager accused of murder was interviewed by police 40 minutes after the killing over a separate stabbing incident, a court has heard.
Yemurai Kanyangarara, 16, of Belvedere, was attacked seconds after getting off a 96 bus in Upper Wickham Lane in Welling, south-east London, last July.
Two boys, aged 16, and a 15-year-old deny his murder at the Old Bailey.
The court heard the 15-year-old arrived at Plumstead Police Station less than an hour after the attack.
The interview had been pre-arranged after the boy was cut on the forehead with a knife by gang members three days earlier as he waited for a bus.
He went to the police station, where he picked out two youths from YouTube.
They did not include Yemurai or his friends, the Old Bailey heard.
After the interview the boy travelled to Brighton where he was arrested with another suspect four days later.
Det Con Toks Jegede told the court he had no idea until he got a telephone call the next day that the youth was wanted.
He added there was nothing about the boy which made him suspicious during the interview.
'Down to earth'
Det Con Jegede said: "I was not aware of the stabbing.
"The first I was aware of it was when I received a phone call on Saturday.
"He was very down to earth."
After the interview the officer gave the suspect a lift home.
He explained: "I took him home, I drove him.
"He expressed concern about what was going to happen to him if they were arrested.
"I said, 'Don't worry, we will make sure you are OK'."
The court heard the violence could have been connected to "rivalry and ill-feeling" between pupils from two schools.
The case continues.