London 2012: Leyton Marsh basketball venue eviction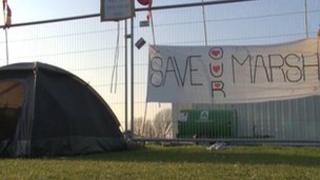 Four people were arrested while an eviction of protesters was taking place at the building site of an Olympic training venue.
Protesters were camped on Leyton Marsh, east London, in an attempt to stop the construction of the basketball centre.
But on Thursday, a High Court official granted a possession order allowing the eviction of the protesters.
Police said they arrested activists who had been obstructing a lorry from gaining access to a site.
Earlier, the force reported that there had been six people detained but later revised the figure to four.
Bailiffs and Metropolitan (Met) police officers arrived at the site at 08:00 BST, acting on behalf of the Olympic Delivery Authority (ODA) and Lee Valley Park Authority, to enforce an eviction and possession order.
Police said up to 30 people were "blocking access to the ODA site, and refusing to move" and about seven protesters were obstructing the lorry from gaining access to a site on Leyton Marsh.
"Four people have been arrested on suspicion of breaching section 14 of the Public Order Act 1986", the Met said.
All the protesters had now been removed.
Activists claimed the Olympic development had been pushed through without proper consultation and an environmental impact assessment.
But on Wednesday, a judge ordered protesters to stop "unlawful activity".
The court official, Master Matthew Marsh, made the order against "persons unknown" after being told the protesters had set up tents, collected wood and made fires in breach of park by-laws.
"On the face of it there have been breaches of by-laws and a number of criminal offences have taken place," Master Marsh added.
An ODA spokesman said: "Local people will still be able to walk on the vast majority of the Leyton Marshes and the immediate Porter's Field area throughout the summer, and, after the temporary structure is dismantled, they will benefit from £65,000 of improvements to the area and its wildlife habitats, funded by the ODA. "
A Lee Valley Regional Park Authority spokesman said: "Unfortunately it has been necessary for police and bailiffs to take action to enforce the High Court possession order which was granted last week.
"We accept the right to protest peacefully and lawfully, however the park's by-laws have been breached repeatedly and we consider this to be a serious matter."