Steven Grisales stabbed by boy, 15, 'over conkers row'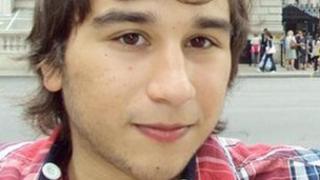 A student was murdered by a 15-year-old boy after a row about throwing conkers, the Old Bailey has heard.
Steven Grisales, 21, went over to talk to some youths who had been throwing the conkers still in their spiky husks, in north London on 31 August 2011.
But within minutes, he had been stabbed through the heart on College Close in Edmonton, the court heard. He was taken to hospital but died the next day.
The boy, who cannot be identified for legal reasons, denies murder.
"This was a sudden, unnecessary killing as a response to a confrontation which took place in the street, which was about nothing very much," said Andrew Edis QC, prosecuting.
"It was about throwing some conkers," he added. "Horse chestnut trees in north London shedding their conkers, people picking them up and throwing them about."
After Mr Grisales collapsed on to the pavement, local residents tried to help him. He was taken to hospital but died despite emergency surgery.
The trial was adjourned until Wednesday.