Lightning strike disrupts trains in and out of London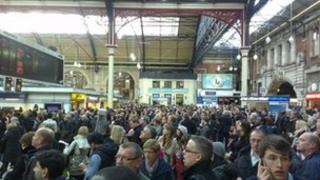 Mainline trains out of two of London's busiest stations have been cancelled or heavily disrupted by lightning strikes.
Network Rail said the lightning hit a power substation near Wandsworth causing major problems to signalling in the area.
Trains operating out of Victoria and Waterloo have been affected.
A spokesman for the rail operator said engineers had managed to restore power and that the vast majority of services should operate as usual in the morning.
Engineers were currently carrying out repairs to the signalling systems which had been damaged by the power surge from the lightning strike.
All Southeastern services out of Victoria remain suspended while Gatwick Express services from Victoria and South West Trains from Waterloo have been affected by the weather with delays of up to 40 minutes.
All Southern trains between London Bridge and London Victoria via Denmark Hill have been suspended.
Trains heading out towards Clapham and Denmark Hill are being diverted and are starting or terminating at Herne Hill, Bromley South, London Cannon Street or London Charing Cross where possible.
Other train services operating from both Victoria and Waterloo which do not go through these areas have not been affected by the power failure.
'Tired commuter'
The lightning strike hit and damaged some signalling equipment on the approach to Victoria railway station at about 17:30 BST, according to Network Rail.
Tamara Griffin, from Bromley, took four hours to get home from Victoria. The journey normally takes 25 minutes.
"I got there just at the wrong time as I was on the underground when the lightning struck so I was unaware of any problems," she said.
Mrs Griffin said there were "infrequent announcements from the driver who had insufficient information" about the cause of the delays or expected duration.
This led her to sit on the stationary train for two hours before she decided to try another route home.
"It was only when my husband contacted me to let me know there were reportedly no trains to Kent that I decided to get off," she said, adding she was a "very hungry, thirsty and tired commuter."
Alexander Howe was travelling from Woking to Guildford when his train was delayed by 45 minutes. It normally takes him 10 minutes.
He said the train was "really busy and the platform was heaving".
"Trains were changing platform by short notice so there was havoc all over the station - people were running up and down the stairs trying to get to different platforms.
"It was all very short noticed and panicky as people were rushing to get to the right place."