Teenagers detained for killing chef Krzysztof Rusek for £12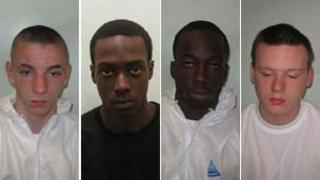 Four teenagers have been detained for a minimum of six years each for stabbing a chef to death in west London for £12 during a mugging.
Krzysztof Rusek was stabbed twice in June last year in a park near a hotel in Fulham.
Akeem Salako and Ruairi Bicknell, both 18, and Ben Wiles and Stefan Morgan, both 17, all of West Kensington, were detained after their Old Bailey trial.
All four pleaded guilty to manslaughter after murder charges were dropped.
The court was told the not guilty pleas to murder were accepted as no-one had witnessed the stabbing.
The four defendants were ordered by Judge John Milford to serve a minimum of six years before they could apply for parole.
Mr Rusek was killed while he was out celebrating his 30th birthday with friends, the court heard.
The judge said the youths had all admitted going out to rob with knives and were all dangerous to the public.
He said it was likely Mr Rusek had put up resistance to being robbed and had been stabbed twice.
"Each [defendant] was armed with a knife and hooded," Judge Milford said.
"Anyone who flees the scene not showing a shred of remorse for the victim or victims, must be dangerous."
The court heard that one of Mr Rusek's friends, a Portuguese barman, had grabbed one of the robbers who was holding him at knifepoint.
He was also stabbed in the leg but had been uninjured because the knife was stopped by plastic cards in his wallet.
After the fatal attack, the gang split up and ran away, changing their clothes and appearance, the court heard.
Following the sentencing, Mr Rusek's girlfriend Martyna Parzynska, 26, said in a statement: "Krzysztof dreamt of starting his own business.
"The sight of the dying, beloved man will never go away."
Det Ch Insp Nick Scola said outside court: "These four teenagers lived a life without boundaries."