Meredith Kercher's father makes plea to her murderer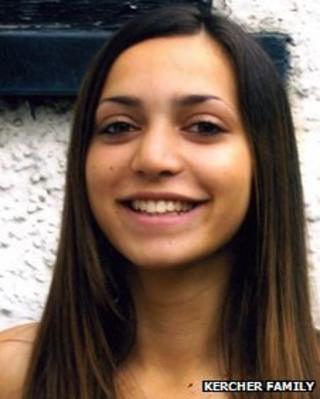 The father of Meredith Kercher, who was murdered in Perugia, Italy, has appealed to her killer to finally "come clean" about what happened.
John Kercher says Rudy Guede "has nothing to lose" as the only person to be jailed for sexually assaulting and killing the Leeds University student.
US student Amanda Knox and her ex-boyfriend were cleared of the 2007 murder of Miss Kercher, 21.
Mr Kercher, of London, believes there were others involved in the murder.
However, he accepts there is little scope for the police inquiry to be reopened.
"I don't see how the investigation can be reopened if there is no other evidence, but what I would like to see is Rudy Guede coming clean and saying something," he said.
The semi-naked body of Miss Kercher, an exchange student, was found in her bedroom at the house she shared with Miss Knox and others. Her throat had been slit.
'A kind of celebrity'
Guede, a drug dealer from the Ivory Coast, has admitted being present at Miss Kercher's cottage on the night of the murder but denied involvement.
However, he was sentenced to 30 years in prison for the killing. His jail term was later reduced to 16 years, on appeal.
Amanda Knox, from Seattle, and her Italian ex-boyfriend Raffaele Sollecito were released from prison last October when their convictions for Miss Kercher's murder were overturned.
Prosecutors claimed he collaborated with Miss Knox and Mr Sollecito in the killing but that version of events was rejected by the appeal court.
Mr Kercher said that in the four years between the murder and acquittals, Miss Knox was turned into "some kind of celebrity" while Miss Kercher was all but forgotten.
In his new book, 'Meredith: Our Daughter's Murder and the Heartbreaking Quest for the Truth', Mr Kercher, from Croydon, said he turns the spotlight back on to his daughter.
"People wanted me to write this book because they say, 'we know everything about Knox but nothing about Meredith'," he said.
Asked whether he had sympathised with Miss Knox's parents, who made repeated high-profile bids to persuade the world of their daughter's innocence, he said: "I can understand they were fighting for their daughter's freedom but it wasn't palatable."