Wayne Stockdale shooting: Police offer £20,000 reward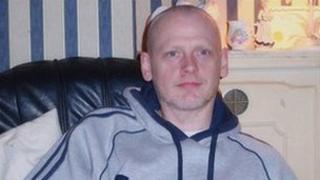 A reward of up to £20,000 has been offered for information on the murder of a man who was shot in the head while riding his bicycle a year ago.
Two masked men opened fire on Wayne Stockdale on 6 May at the junction of Knapp Road and Rounton Road, Tower Hamlets, east London.
Police believe the 42-year-old, from Poplar in east London, was shot in a case of mistaken identity.
Post-mortem tests gave the cause of death as a gunshot wound to the head.
The two suspects, described as black or Asian males, made off towards Knapp Road and got into a car, the Metropolitan Police said.
Det Ch Insp John Crossley said: "We have always maintained that Wayne was not the intended target for this incident, which saw shots fired both at him and into the street.
"It's now a year since the murder took place and we hope the offer of a reward will encourage people to come forward with information."