Boris Johnson names four deputies after rule 'shambles'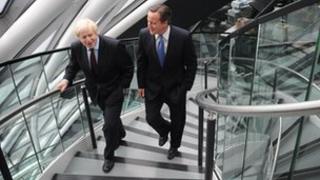 Re-elected mayor of London Boris Johnson has announced four appointments amid claims of "chaos".
Kit Malthouse takes a new role of Deputy Mayor for Business and Enterprise.
Reports suggested Stephen Greenhalgh would become Deputy Mayor for Policing, but in what Labour have called "administrative chaos", that role has not been officially confirmed.
The appointment would have breached local government law, said Labour.
'Chaos and confusion'
A report in The Evening Standard said that Mr Greenhalgh would become head of policing.
London Labour Assembly Member Val Shawcross responded saying that the appointment breached the Local Government Act 1989 which states that a person is disqualified from taking a local authority post if they already have one.
Hammersmith and Fulham Council confirmed that Mr Greenhalgh remains council leader until 30 May when the result of a leadership election will be known.
After a press statement was released without Mr Greenhalgh's name, a spokeswoman for the Mayor's Office said Mr Greenhalgh's deputy mayor role was "not a confirmed appointment yet".
Ms Shawcross told the BBC: "This is typical Boris Johnson administration chaos and confusion."
She said a similar mistake had been made in the appointment of Sir Simon Milton in 2008.
"He was appointed as chief of staff while a senior councillor in Westminster Council."
Sir Simon had to stand down as a Westminster councillor and as Chairman of the Local Government Association to take Mr Johnson's role advising him on planning matters.
She added: "It's a rule widely known and understood by everyone in the whole of the public service, particularly local government, apart from, it seems, Boris Johnson."
She said that with a "crisis" in the Metropolitan Police it was in need of good leadership.
"It's an appalling shambles for the most important political policing role in the whole of the UK right before the Jubilee and the Olympics. He ought to be giving this number one priority," she said.
'Business pedigree'
Mr Johnson said the creation of a new role, Deputy Mayor for Business and Enterprise, put the creation of jobs and growth at the heart of his second term.
He said: "Kit Malthouse has an outstanding business pedigree, knows how to get results and has proved he can do so in the toughest economic conditions with policing in London.
"He will drive forward my plans to create hundreds of thousands of new jobs in the capital over the next four years, help create 250,000 new apprenticeships and ensure our capital's small businesses, the engine room of our economy, are given the support they need to succeed as we invest £221m in our local high streets."
Richard Blakeway has been appointed Deputy Mayor for Housing, Land and Property and will chair Homes for London, formerly the London Housing Board, the Mayor's Office confirmed.
Munira Mirza has been named as Deputy Mayor for Education and Culture to focus on a range of projects to boost young people's education and attainment, said the Mayor's Office.
Sir Edward Lister will remain as Chief of Staff and Deputy Mayor for Planning.