Stephen Greenhalgh proposed as Deputy Mayor for Policing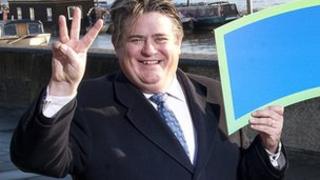 The leader of Hammersmith and Fulham Council has stepped down as Boris Johnson has put him forward as the Deputy Mayor for Crime and Policing.
If approved, Stephen Greenhalgh will replace Kit Malthouse who now becomes the first Deputy Mayor for Business.
The decision sparked controversy after Labour claimed it was made while he was still council leader which would have breached local government law.
The council announced on Thursday that Mr Greenhalgh has stepped down.
Earlier this week, the council said he would remain as council leader until 30 May when the result of a leadership election would be known.
His appointment as Deputy Mayor for Policing is subject to the London Assembly's Policing and Crime committee's approval.
Councillor Nick Botterill has been nominated by the Conservatives to take Mr Greenhalgh's place as leader of the council.
'Relish the challenge'
Commenting on the proposed appointment, Mr Johnson said: "He (Mr Greenhalgh) has a wealth of experience in uniting communities and pulling together the work of agencies to not only crackdown on crime but also continue our work in breaking the cycle of crime."
Mr Greenhalgh said he would oversee a "major boost" to neighbourhood policing.
"The eyes of the world will be on the capital in this Olympic year and I relish the challenge of working closely with the Met police to drive down crime and to build stronger, safer neighbourhoods throughout the city," he added.
Other appointments include Isabel Dedring who has been re-appointed as Deputy Mayor for Transport; Victoria Borwick as Statutory Deputy Mayor and Daniel Ritterband will continue as the director of Marketing and 2012 Communications.
Daniel Moylan has been appointed as chair of the London Legacy Development Corporation while James Cleverly has been appointed chair of the London Fire and Emergency Planning Authority (LfEPA) however these two positions may be subject to confirmation hearings.