Race case Metropolitan Police officers 'should be disciplined'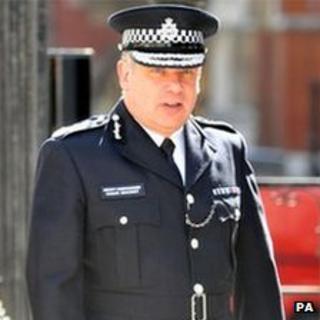 Seven Metropolitan Police staff should face misconduct hearings over racism claims, the police watchdog said.
The Independent Police Complaints Commission, which looked into 11 cases, suggested six officers and one civilian staff member face hearings.
One of the officers, who was convicted of racially aggravated public order offences in March, will face a gross misconduct hearing, the Met said.
In total, 20 officers are being investigated over 11 allegations.
The force is waiting for the IPCC's recommendations regarding misconduct in relation to six other officers.
Two officers are already facing criminal charges.
'Diligent investigation'
PC Alex MacFarlane has been summonsed on a racially-aggravated public order offence, in relation to an incident last August in Newham. He is due before Westminster Magistrates' Court on 22 May.
The Met said it was waiting for the IPCC's recommendations regarding misconduct in PC MacFarlane's case.
PC Joseph Harrington has been summonsed on an alleged offence of assault occasioning actual bodily harm, also in connection with an incident in Newham last August.
The Met are considering their misconduct findings in relation to the officer.
Deputy Commissioner Craig Mackey said: "The MPS are committed to demonstrating that we will take action when cases of alleged racism are brought to our attention.
"All misconduct procedures are carried out in accordance with police regulations under the Police Act, but where possible we will proceed quickly, whilst ensuring a thorough and diligent investigation."
One claim of an assault involving five officers against several youngsters in Hyde Park in 2011 was not upheld.