Kasey Gordon: Serif Aslan jailed for stabbing murder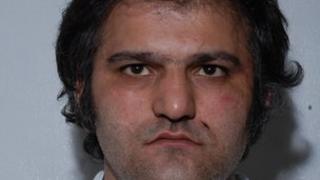 A judge has criticised the "wholly inadequate" care given to a mentally ill man who stabbed a 15-year-old boy to death in north London.
Kasey Gordon was killed in West Green Road, Tottenham, in January 2011 by paranoid schizophrenic Serif Aslan.
Judge Richard Marks said staff at the private Ashness House care home had not ensured Aslan took his medication.
Ashness House care manager Nick Purchase said he did not accept the judge's comments.
Aslan, 34, was convicted of murder at the Old Bailey and will serve at least 20 years of his life sentence.
'Great shock'
Passing sentence, Judge Marks told Aslan: "It seems to me that better supervision may well have avoided the tragic events.
"It is plain that the systems in place at Ashness House to see that you took your medication were wholly inadequate, certainly in the way they were implemented in your case."
Aslan was considered low risk by the Haringey Multi-Agency Public Protection Panel.
He was not under curfew and had been "a voluntary resident" at the care home since 2006, the Barnet, Enfield and Haringey Mental Health Trust said.
It said: "Mr Aslan lived in a mental health residential care home and was subject to regular medical assessments.
"He had lived quietly in the community for several years and the incident came as a great shock as there was no prior indication of violent behaviour during this time.
"The trust responded to the incident with an immediate review of its procedures to see what lessons could be learned."
Three years ago a small kitchen knife and some cannabis were found in Aslan's room. Police confiscated the knife and drugs and issued a formal warning, the trust said.
Mr Purchase said there had been "various reports" about when Aslan bought the knife and he might not have kept it in his room, instead buying it on the day of the murder.
The court was told the home, in Phillip Lane, was close to the victim's school.
Aslan had been punched by a schoolboy after he made a remark about his girlfriend. He left the scene but returned with a kitchen knife and attacked the boy and a group of his friends who had come to his aide, including Kasey.
Kasey was killed with a stab wound to the heart. Three other boys were injured in the attack.
'Born leader'
During the trial, Richard Horwell QC, prosecuting, said Aslan "calmly walked away" after the 30-second attack, leaving behind "a scene of considerable carnage".
As well as a life sentence for Kasey's murder, he was given concurrent sentences of up to seven years for injuring a 16-year-old boy and two boys aged 14.
He will be detained in a secure psychiatric hospital.
The court heard Aslan had not been taking his medication regularly for a week before the attack and had kept a knife in his room, which he had been warned against.
Staff at the care home were meant to ensure he took his medication and conduct random searches of his room, the court heard.
A victim impact statement by Kasey's mother Verona, which was read out in court, said: "Kasey was the soul of my family. He was a born leader."
She said she was not seeking revenge and had no "hatred in my heart for the man who took my son's life if he is truly mad".