London 2012: Gunnell beats Boardman in race to park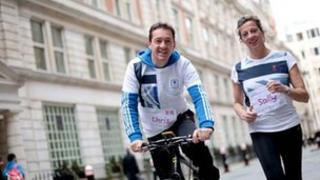 Hurdler Sally Gunnell has beaten cyclist Chris Boardman in a race across east London to the Olympic Park.
Gunnell ran while Boardman cycled the 4.5 miles (7 km) from Liverpool Street Station to the park in Stratford on Thursday morning.
She finished in 36 minutes, four minutes ahead of him.
The Olympians, who both won gold in Barcelona in 1992, raced to raise awareness of alternative transport options available during the Games.
Research from London 2012 and Transport for London (TfL) found 86% of central London businesses were planning initiatives to encourage employees to use a different form of transport to get to work during the Games.
Of those, 60% of the 200 companies asked said they would encourage their staff to walk or cycle.
Up to three million additional journeys are expected to be made during the busiest days of the Games.
As part of the London 2012 and TfL challenge, Gunnell and Boardman raced to Stour Space, a gallery and café, opposite the Olympic Park on the River Lea.
Gunnell took 36 minutes while Boardman took 40 minutes.
Gunnell, who won gold in the 400m hurdles in 1992, said: "Walking and running part or all of a journey around London and other hotspots is the ideal way to travel around during the Games.
"There are 47 tube journeys that can be walked in under 10 minutes and this is even quicker if people run it, so commuters should consider letting their trainers, rather than the train, take the strain this summer."