Trenton Oldfield denies University Boat Race swim charge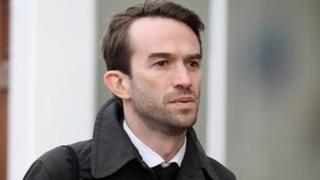 A man accused of halting the University Boat Race by swimming in the River Thames has pleaded not guilty to a charge of causing a public nuisance.
The race was stopped on 7 April when the Oxford and Cambridge boats were side by side near Chiswick Eyot, west London.
Trenton Oldfield, 36, of Whitechapel, east London, appeared at Isleworth Crown Court, where he entered his plea.
He has been released on bail and is due to stand trial on 24 September.
Until then, strict bail conditions mean Mr Oldfield has been banned from going anywhere near the Diamond Jubilee or Olympic events.
He is also banned from going near the Henley Royal Regatta in Oxfordshire in late June and early July or Royal Ascot in the Royal Borough of Windsor and Maidenhead in late June.
Judge Anna Guggenheim QC told him he must not go within 100m (330ft) of any road used for the Olympic torch during the relay, or within 100m of any Olympic venue during the Games.
He is also barred from entering the City of Westminster on days when Jubilee events are taking place in June and during Trooping the Colour.
The 36 year old cannot enter the City of London on 16 June, when a service takes place at St Paul's Cathedral.
To keep him away from the Jubilee river pageant, Mr Oldfield was told he cannot go within 100m of the River Thames on 2 and 3 June.
The judge said she was imposing the conditions "to prevent the commission of further incidents of a similar nature to that which the defendant, while contesting whether it amounts to public nuisance or not, admits took place on April 7".
Mr Oldfield, of Myrdle Street, east London, was accompanied to court by two or three supporters.
He spoke only to confirm his name and enter his plea.
It was the first time in history the boat race was disrupted by a swimmer.
The race was restarted nearly half an hour later. Cambridge went on to win after Oxford broke an oar.