Plans to help London social housing tenants move for work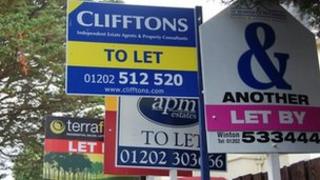 Thousands of social housing tenants in London are to be offered the chance move to another part of the capital to take up employment opportunities.
The Housing Moves scheme aims to address the lack of social tenant mobility, which it estimates to cost the economy at least £63m per year.
People who wish to downsize will also be able to move more easily.
Mayor Boris Johnson said he was determined to do everything he could to make it easier for people to get work.
"For too long London's social housing tenants have been stuck with an inflexible system that limits aspiration and costs the London economy millions of pounds each year," he said.
"It is wrong that anyone should be prevented from taking part in the capital's economic successes simply because they are unable to move home."
The scheme has been developed in partnership with London's boroughs and housing associations.
It allows people, via a website, to select a property in the borough where they want to live.
It will also help tenants who need to take care of a family member to move or want to downsize to a smaller property, helping to free up more family sized homes in their area.
Each borough will nominally contribute the equivalent of 5% of its re-lets to the scheme each year - up to 1,300 across London in 2012/13 - however, no borough will have more households move in than move out over a given period.