London 2012: Games security staff '40% local'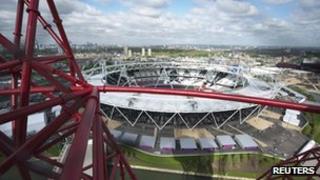 A total of 40% of Olympics security workers are from boroughs close to the Games site, a report has said.
Security provider G4S said 10,500 candidates from the six host boroughs are currently undergoing security screening and training.
More than 100,000 people have been interviewed for Olympic-related jobs, with 3,000 already deployed.
Olympic organisers Locog committed to recruiting locally for jobs in retail, catering, cleaning and security.
'On target'
At least 40% of G4S's Olympic workforce is set to come from the local boroughs of Barking and Dagenham, Greenwich, Hackney, Newham, Tower Hamlets and Waltham Forest.
Mark Hamilton, managing director of G4S London 2012, said: "It was always our intention to mobilise a large part of our workforce from the six boroughs around the Olympic Park in east London.
"I am delighted that we are on target to secure the services of thousands of local people who will help make the London 2012 Olympic and Paralympic Games safe and secure.
"I am also thrilled that so many have come forward to seek work. They have a very responsible, and I hope rewarding, part to play in the sporting extravaganza and they are helping to add to the buzz of excitement that is building around London 2012."
Most of the 23,700 security jobs will end after the Paralympics in September, but G4S said they will have gained valuable qualifications and work experience to help find more employment.