Riot-hit Haven Green lives up to its name once more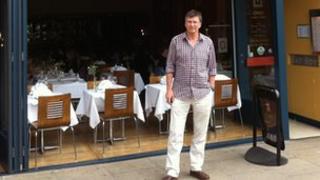 On 8 August last year a crowd of about 200 people rampaged through Haven Green, an affluent part of Ealing in west London, vandalising and looting shops and setting cars on fire.
One of the people involved was sentenced on Thursday.
He targeted a Thai restaurant and admitted entering with intent to steal.
Nine months on is Haven Green living up to its name once more?
Adrian Mills, who owns Fat Boys, says it is.
Fat Boys
On a peaceful, sunny afternoon with people going about their business he says it is inconceivable that it was the scene of such devastation.
But he says one of his waiters was so scarred by the August riots he decided to return to his native Bangkok.
Jack had experienced the red-shirt protests in 2010 in Thailand in which more than 90 people died, but on 8 August he and other members of staff locked themselves in the kitchen while the glass windows of the restaurant were smashed and the mob grabbed what they could.
On Thursday, a 16-year-old boy was given a 12-month referral order at Hammersmith Youth Court.
He admitted entering Fat Boys with intent to steal.
His defence said he had been "caught up in the moment".
'Terrorising a community'
It cost up to £3,000 to replace the windows and stock, Mr Mills said.
He added that he had been kept informed of all charges made in relation to the looting of his restaurant.
He said he had been notified of about eight so far.
The 16-year-old boy who appeared in court cannot be named for legal reasons.
He had no previous convictions, had not stolen anything from the restaurant and was planning on entering the Army, the court heard.
He wore a suit and tie to court and received a 12-month referral order.
Referral orders lead to a contract of behaviour being agreed which can include making reparation.
District Judge David Simpson told him: "Terrorising a community was perhaps not in your mind but the cumulative effect meant the people lost trust in the community they lived."
Mr Mills says the neighbourhood is once again thriving.
He said: "All the shops tend to know each other now whereas before we didn't. A little bit of community spirit has come about."
He has received a letter of apology from one of the youths prosecuted, by means of reparation.
Gourmet Burger
Perhaps surprisingly, Gourmet Burger on Haven Green was also targeted.
Supervisor Genaro Martinez, 28, was on duty.
"They used a bottle of champagne from Tesco to try to smash the windows," he said.
"What a waste."
They did not manage to break the window but the staff had to retreat to a third-floor training room and wait until it was safe to leave.
At about 02:30 Mr Martinez left the restaurant to find his bike had been vandalised. He had to walk home because there were no buses.
He said: "They had tried to steal the bike and then kicked in the wheels until they were bent."
Reflecting on that night he said: "I wouldn't like to do it again."
As for his bike, he said: "I bought new wheels and a new chain and I still use it now."
Visage
Steven Levitt, owner of hairdressers Visage, said the experience had been "very traumatic" at the time, mainly because of the death of Richard Mannington Bowes, the 68-year-old man killed as he tried to put out a fire in nearby Spring Bridge Road.
"He lived next door to us," he said.
"But we got ourselves quickly back on our feet and I think to be honest, everyone's forgotten about it [the riots]."