'Mistaken identity' blamed for Daniel Smith's death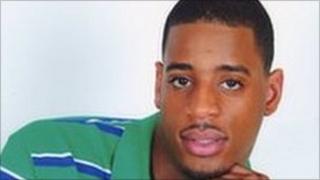 An innocent man from east London was killed because he bore a "striking resemblance" to a man involved in a gang feud, the Old Bailey has heard.
Daniel Smith, 22 from Hackney, was shot as he left a KFC restaurant in Harrow Road, west London, in May 2010.
Shortly before, a man suspected of killing a gang rival had entered it.
Kervin Kavuala, 27, of Kilburn, Shane Lewis, 32, of Harlesden, and Zeleke Forde, 30, of Watford, Herts all deny killing Mr Smith.
Jonathan Yeboah, 25, of west London, denies two offences involving him trying to obtain a firearm for Mr Kavuala.
The court heard that Mr Smith, an electrician, had gone into the fast food restaurant to buy some food. He was on his way home.
'Revenge killing'
Jurors were told that a gangster - suspected of shooting Tyno Kavuala who was found shot in his car in Scrubs Lane, north Kensington, in March 2010 - had entered the restaurant just before.
Calls were then allegedly made to the Mr Kavuala's brother Kervin.
Prosecutor Richard Whittam QC said: "This case involves the murder of an innocent man against a background of gangs.
"Daniel Smith was murdered because he was a victim of mistaken identity.
"The murder was intended to be a revenge killing for a previous murder."
He said the man who entered the shop "bore a striking resemblance" to Mr Smith, who had "no involvement with the police, the defendants or gangs".
Mr Whittam added that hours before Mr Smith was shot, the three murder suspects had made a rap video, later posted on the internet, which vowed to avenge the death of Mr Kavuala.
The trial continues.