Charge for utility firms over London roadworks imposed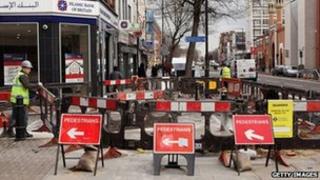 A levy of up to £2,500 a day on utility firms who dig up busy roads during peak times in London has come into effect.
The charges will apply on 330km (205 miles) of roads managed by Transport for London (TfL), which itself will not be exempt from the charge.
TfL's Lane Rental scheme aims to cut disruption and encourage firms to carry out works during off-peak hours.
Up to 270 police community support officers will patrol the roads to monitor ongoing roadworks.
The charge applies to 57% of the TfL road network.
TfL said it carries out 70% of its works outside peak hours, compared to 20% of the works carried out by utility companies during the same time.
'Frustrating' disruption
London Mayor Boris Johnson said: "Lane rental is a vital addition to our arsenal.
"Setting the meter running the moment the first cone appears will finally make utilities understand the full economic cost of their work."
Leon Daniels, managing director of surface transport at TfL, said: "Our lane rental scheme allows us to encourage more roadworks on the capital's busiest roads to take place outside the busiest hours, cutting unnecessarily prolonged and disruptive roadworks from our road network."
Val Shawcross, who is Labour's transport spokesperson on the London Assembly, said the scheme would be a "powerful incentive" for utility companies to work quickly.
But she added: "It is important that TfL doesn't allow companies to try and get round this by encroaching onto pavements instead, we will be keeping a close eye on this and expect the Mayor to do the same."