London 2012: Mothers launch 100 days of peace campaign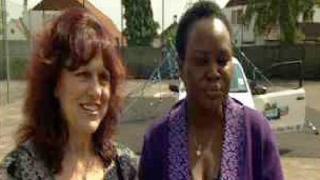 The mothers of two murdered London teenagers have launched a peace campaign as part of the build-up to the Olympic Games.
Margaret Mizen and Grace Idowu's sons - Jimmy, 16, and David, 14, - were both stabbed to death in 2008.
The 100 days of peace campaign has been designed to encourage young people to be a positive and peaceful force within their communities.
The campaign mirrors a truce instigated during the ancient Games in Greece.
This enabled competitors to reach Olympia without being attacked as they passed through states at war.
The project marks 50 days of peace before and after the Games.
'Positive action'
"I don't think the Games alone will stop people hurting each other, but I do believe that the Olympic legacy will be one of peace and we can start working for change and that's one of the amazing things," said Mrs Mizen.
"We're realistic; we know things could still happen, but that'll make us even more determined to do something."
Ms Idowu said: "Together, me and Margaret are going to work for peace all over the UK.
"We're going to work for peace for the safety of our community and for the safety of this nation as well."
Speaking at the launch, London mayor Boris Johnson said: "In an embittered, cynical, twisted world I think it's a little flash of positive action and I'm very pleased to support it."
Jimmy was killed when he was stabbed in the neck in a bakery in Lee, south-east London, while David died 20 days after he was stabbed outside his house in south London.
Since their sons' death, both mothers have visited schools, prisons and young offenders institutes to raise awareness of the consequences of violent crime.