Olympics 2012: 24% of bus services to be disrupted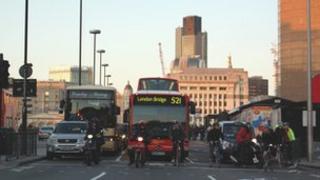 Transport for London (TfL) has warned that 24% of the capital's bus services will be affected by diversions, route changes and suspensions during the Games.
Of London's 700 routes, 83 will be changed because of access restrictions and road closures around events.
At least 87, including some of the 83, will be affected by road race events.
Mike Weston, from TfL, said the "vast majority" of bus routes would be unaffected.
'Detailed forecasts'
Terminals will also change and bus stops be moved or temporarily suspended for the period from July 27 to 9 September.
On the days of the cycle road races on 28 and 29 July, 69 routes will be cut short or suspended completely.
Other road events include the marathons, the cycling section of the triathlon and cycling time trials.
The first of the changes has already taken place with the closure of Stratford City Bus Station at Westfield shopping centre, requiring routes 97, 241, 339 and D8 to be diverted to Stratford town centre.
But TfL said most changes will not be needed until closer to the Games.
A complete list of affected bus services is available.
TfL anticipates an extra one million people will be in London for the Games.
London buses ordinarily carry about 6.5 million passengers a day.
John Barry, TfL's head of network development for London buses, said: "Although most of TfL's bus network will not be affected by diversions, we are advising passengers to plan ahead before they travel this summer."
The changes are based on detailed forecasts, and diversions related to the Olympic Route Network (ORN) will be in place for the minimum time necessary, said TfL.
More than 30 routes will see an increase in frequency and some single deck buses will be replaced with double deck buses to increase capacity at peak times.
The Olympic Delivery Authority will provide park-and-ride services from outside London to the Olympic Park, as well as some shuttle services at venues.
The ORN has been a feature of all host cities since the Atlanta Games in 1996 and is needed to get all athletes, officials and members of the media to Games events on time.