Tube strikes due over disputes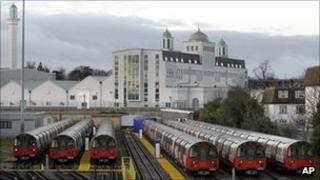 Three Tube strikes are being threatened in the coming weeks over two separate disputes involving workers.
Members of the Aslef union on London Underground's Piccadilly line are due to stage a 24-hour strike next Thursday over the sacking of a colleague.
And in a separate row over jobs and conditions, RMT members at a control centre in west London are due to walk out from July 1-4 and from July 8-15.
Tube bosses described the strikes as "unnecessary".
But RMT leader Bob Crow said: "This group of workers are absolutely key to delivering the service on the Piccadilly line and sub-surface railways and the way that they have been treated by the management at a time when the system is under intense pressure is nothing short of shocking."
Nigel Holness, London Underground's operations director, said: "We have been in discussion with the unions across the entire Tube network.
"There is absolutely no need for strike action."
Up to 700,000 people use the Piccadilly Line every weekday. The line runs between Heathrow Airport and Uxbridge in west London up to Cockfosters in the north.
"If this threatened strike were to take place we would expect to run a substantial amount of service on the affected lines and a normal service on the rest," Mr Holness added.