Doctors' strike: London hospitals cancel 520 operations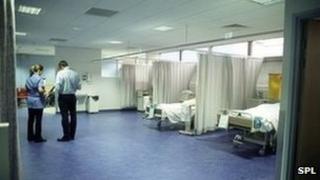 London's hospitals have cancelled 520 non-urgent operations and 3,900 appointments due to a doctors' strike.
Despite the cancellations NHS London said more than 90% of hospital doctors were "working normally" and "emergency and urgent care is continuing".
British Medical Association members across the UK are boycotting non-urgent care in a dispute over pensions.
NHS London said 77% of GP practices were open but doctors and hospitals were focussing on urgent cases.
People are also being urged not to call for an ambulance or go to A&E "unless it is a real emergency" as the doctors will concentrate on providing urgent care.
Row over pensions
An NHS London spokesperson said: "More than 90% of all hospital doctors in London are working normally.
"Although members of BMA are taking industrial action today, all emergency and urgent care is continuing. This means that those doctors participating in the industrial action will be attending their place of work.
"Hospitals in the London area have had to reschedule around 520 operations. This represents around 11% of the total number of operations anticipated today.
"We also understand that around 3,900 outpatient appointments have been rescheduled. This represents approximately 6% of appointments on the average working day."
NHS London said 77% of all GP practices in London were working as normal and the remaining 23% should be open, but they would provide a reduced service.
The BMA, which has more than 100,000 members, said the government was wrong to try to change the current pension arrangements because a new deal was only agreed in 2008.
The current scheme is bringing in a surplus of £2bn a year and under the new plans doctors are being asked to contribute much more than other high earners in the public sector. Doctors will also be asked to work for longer - until 68 - and contribute more of their pay.
But ministers have insisted the changes, which apply to England and Wales but could be introduced elsewhere in the UK, are necessary.