Tube driver and Heathrow cargo staff strikes called off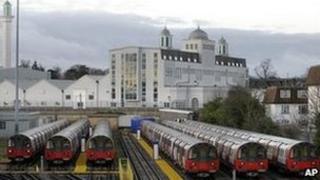 Strikes by London Underground (LU) drivers and Heathrow Airport cargo staff in disputes over pay and disciplinary action will not go ahead.
The drivers' union Aslef said there would be no walkout on the Tube's Piccadilly line on Thursday.
A strike at Heathrow over pay, due to start on Wednesday, has also been suspended, said the Unite union.
But RMT members at a Tube control centre in west London are still due to walk out from 1-4 July.
The control centre handles Piccadilly, District, Circle, Hammersmith & City and Metropolitan Line trains.
RMT members are planning to walk out from 1-4 July, and stage "action short of strike" from 8-15 July, over jobs and conditions.
An LU spokesman said contingency plans were being worked on.
Members of Aslef planned to stage a 24-hour strike over the sacking of a colleague. It said an agreement had now been reached.
Phil O'Hare, Piccadilly Line general manager, said: "London Underground was always prepared to discuss this issue at any time to reach a resolution, and I am pleased that constructive discussions with Aslef have been successful in removing the strike threat over Londoners."