Queen's Hospital's A&E department criticised by CQC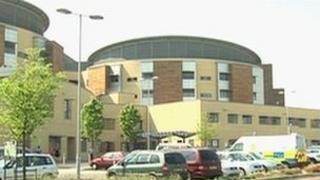 Serious concerns have been raised by the health regulator about an A&E department at a hospital in London.
The Care Quality Commission (CQC) said there was an "unacceptable level of care" at Queen's Hospital in Romford.
Its report added that Barking, Havering and Redbridge University NHS Trust had only achieved 27 of its 81 previous recommendations, however it had made good progress.
The trust said although it had made good progress, it had a long way to go.
The CQC made the comments as it followed up on its reports completed last year on the A&E department at Queen's Hospital, maternity services at Queen's and King George Hospital in Ilford, as well as stroke rehabilitation and radiology services.
It said although the trust had made improvements, especially across maternity and radiology services, emergency care still remained a serious concern.
The regulator added more needed to be done to improve staff levels as it was struggling to deal with increased complaints, which it added might have been sparked by its initial investigation.
'Takes time'
The report comes the day after an NHS trust in south London announced it was facing insolvency.
Barking, Havering and Redbridge University NHS Trust has been identified by the government as facing financial difficulties as it is £50m in debt.
Matthew Trainer, deputy director of CQC in London, said: "The direction of travel at the trust is encouraging but - as they acknowledge - they still have some way to go before they are consistently delivering the quality of care that local people are entitled to expect."
The trust's chief executive Averil Dongworth said: "Making changes that can be sustained takes time, but I'm pleased that some of the improvements we have been making, particularly in maternity, are already getting positive feedback."
She added work was under way to improve the A&E department to reduce waiting times and that it was working with other health providers to address all issues.
The CQC's investigation into the trust has now been completed.