Wilton's Music Hall given grant to help restoration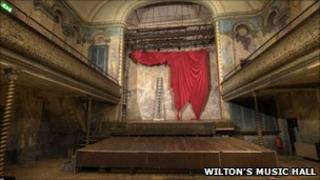 The world's last surviving grand music hall in east London has been awarded a £56,000 grant to develop plans for its restoration.
Wilton's Music Hall, which is close to Tower Bridge in the East End, was given the grant from the Heritage Lottery Fund (HLF) for its conservation works.
The Grade II listed building is on the at-risk register with 40% of the site out of bounds.
The Wilton's Music Hall Trust (WMHT) will now apply for a full £1.6m grant.
Wesley Kerr, HLF chairman, said: "Saving Wilton's Music Hall is vital not only for our understanding of music halls and their place in modern popular entertainment, but for our understanding of the story of London itself."
Badly-needed repairs
The building was part of the first generation of public house music halls opened in London in the 1850s by entrepreneur John Wilton.
It played host to may famous stars including Champagne Charlie, who played a key role in the 1889 Dockers Strike which resulted in the formation of the UK's first trade union and also acted as an evacuation centre during the two world wars.
By the start of the 20th Century these had all closed and this particular site remained neglected until 11 years ago.
In 2007 it was listed by the World Monuments Fund as one of 100 locations of cultural importance which were under threat.
Since then, however, two bids for lottery funding for the Grade II listed building have come to nothing and it was feared the venue would have to close if it could not undergo badly-needed repairs.
Artistic director Frances Mayhew said: "We are thrilled to have this initial support from the Heritage Lottery Fund and it really feels we can move forward with our phased capital project."