Boris Johnson Murdoch meals disclosure delay 'an error'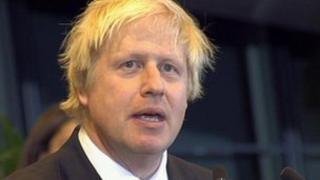 Boris Johnson's office has admitted an "administrative error" meant details of meetings with News International last year were not published for 10 months.
The London mayor had denied there was an attempt to conceal a meeting which took place at a sensitive point in police enquiries into phone-hacking.
Labour has accused him of hiding details of meetings with Rebekah Brooks and Rupert Murdoch.
The mayor's spokesman said there was no intention to withhold information.
Mr Johnson had a lunch with Mrs Brooks on 14 January 2011, and a dinner at Mr Murdoch's home 10 days later, just two days before the Metropolitan Police launched Operation Weeting into phone-hacking.
City Hall prepared a response last summer to a Freedom of information request asking for full details of Mr Johnson's meetings with officials from News International.
But the information was not placed on the FoI disclosure section of the Greater London Authority website until early November.
A third meeting - with James Murdoch and Mrs Brooks in May last year - was also not disclosed on the website.
'Dropped in'
Labour says the information should have been given to the London Assembly and declared on City Hall's register of interest and hospitality at the time.
Mr Johnson has given a different reason for failing to include each of the three meetings in his monthly update to the assembly and to declare them on the register.
He said the lunch on 14 January with Mrs Brooks was in his private capacity as a newspaper columnist. Previous lunches with the former News International boss had been declared.
The dinner with Rupert Murdoch was not declared because he only "dropped in" and its value was less than £25, the threshold requiring declaration.
He had not declared the "working lunch" with James Murdoch and Mrs Brooks in May 2011 because - as well as coming in under £25 - it was, he said, "commercially sensitive."
The lunch with Mrs Brooks came just four days after the mayor had been given one of his regular briefings on policing from the then Assistant Commissioner John Yates.
The mayor said he could not recall whether Assistant Commissioner Yates had briefed him on developments on phone-hacking and the likelihood of a major new investigation, but said he was "surprised and disappointed" by suggestions that he would have disclosed any information to others.
He told the London Assembly: "Not only did I not have any useful information, but I wouldn't have passed it on."