Ex-soldiers to hand out parking tickets in central London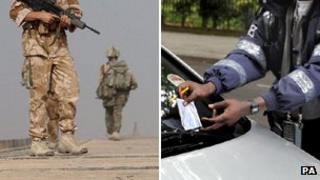 Former soldiers are being offered a new career - dishing out parking tickets in central London.
As the government revealed 20% cuts to the Armed Forces, Westminster Council announced it had stepped in offering them jobs as "traffic marshals".
It claims to be "reinventing" the traffic warden, with marshals giving drivers advice and helping deliveries.
But the council was accused of "insulting spin" after revealing the 40 "marshals" will still issue tickets.
'Blatant opportunism'
The scheme is to initially run during the Olympics but will continue if deemed a success.
Graeme Jones, who has campaigned against the style of parking enforcement in the borough, said: "It is blatant spin and opportunism.
"They're saying, 'Oh look, loads of soldiers are being made redundant, let's rush a press release out'."
He continued: "Apart from anything else it's just insulting to our troops.
"These are guys who've been putting their lives on the line for our country, and we're saying, come and be a traffic warden in Westminster. Really?"
Some 10 soldiers are among the 40 marshals to have been given jobs.
The council said they had "exactly the right skills for this important role".
Councillor Daniel Astaire, cabinet member for business, said: "We are proud to be leading a project like this that makes a genuine difference to people's lives.
"The Olympic marshals will primarily be deployed overnight when deliveries are most likely to take place, between midnight and 6am in the central parking zones.
"They do have the power to give out tickets to drivers who are parked illegally, but the emphasis will not be to do that unless absolutely necessary."
The authority says that if the traffic marshal project is successful it will continue beyond the Olympics.
Westminster Council had promised a fresh start in its approach to parking enforcement after an abortive attempt to bring in parking fees for the West End on evenings and weekends drew mass criticism.