London 2012 travel: Olympics road changes for drivers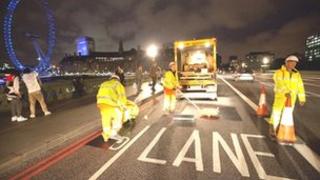 Roads around London will "look and feel different" from Monday after a weekend of preparations for Olympics traffic, Transport for London (TfL) has warned.
More than 2,000 workers are altering junctions and line-markings before the 109-mile (174km) Olympic Route Network begins on Wednesday at 06:00 BST.
Rules will be stricter than normal along the network, with fewer parking bays and no stopping in many places.
But at the same time some bus lanes will open to all traffic to ease jams.
The array of changes will be communicated to motorists through signs positioned beside the roads and others painted on to the actual lanes.
Just over a quarter of the Olympic Route Network has been designated as Games Lanes, which will be set aside mainly for athletes and VIPs, again from Wednesday morning.
Some taxi drivers are angry they have been banned from most of these lanes, and five MPs want cyclists to be able to use them.
TfL said a protest by cabbies in Parliament Square last week was "completely irresponsible" and insisted most people on bicycles would not use the lanes anyway, as most were positioned far away from kerbs.
Other changes for the Olympics include reprogramming 1,300 sets of traffic lights to control the flow of vehicles around London.
Work has also started to build three temporary bridges for pedestrians trying to cross the busy Hyde Park Corner.
There had been "a hive of activity" on London's roads in recent days, said Leon Daniels, TfL's managing director of surface transport.
He advised road users to plan their journeys, to avoid driving in central London and to check a website created to highlight likely disruption.