London 2012: Small firms face 'unforgiving' Games Lanes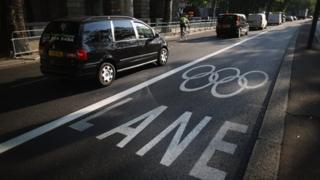 London 2012's Games Lanes and special restrictions will ensure athletes, officials, media, VIPs and emergency vehicles get where they need to as quickly as possible.
But the Federation of Small Businesses is concerned about the impact of the Games Lanes and the Olympic Route Network (ORN) - with its banned turns, closed side roads, parking and loading suspensions.
It wants the government to use a slice of the reported £500m Olympic underspend to compensate businesses if they can prove their profits have been damaged by the Games.
From the gym open for seven months to the manufacturer established 115 years ago, the owners of small and medium-sized businesses in London are hoping they can survive the Games in what is already an economically challenging time.
I. Watermans Box Makers
"It's just chaos. It's very, very difficult. The roads are not great at the best of times. I think a huge number of small businesses will not get through the other side of this. There will be a lot of casualties," says David Waterman of I. Watermans Box Makers in Assembly Passage, off Mile End Road in east London.
He is the fourth generation of his family to make cardboard boxes. He is just over a mile from one of the main Games Lanes on the A12 nearest the Olympic Park.
The firm which relies on being able to receive materials and deliver finished goods has been building up buffer stocks for the last few months, in anticipation of traffic gridlock.
He points out that stockpiling raw materials is only possible if you have the money and the storage space.
"It's a great event. I just think that some of the things have been too dramatically adhered to in terms of transport. It's going to be unforgiving."
Storm Flowers London
Sam Hopkins runs a florists in Islington, north London, serving mainly corporate clients with fresh cut flower displays for foyers.
They deliver across London using two to three vans up to three times a week to serve about 50 clients.
Miss Hopkins has been planning for the changes for months and decided after a Transport for London seminar to completely restructure the business.
Worried that there would be "major issues" getting deliveries of flowers from suppliers, and displays to clients, the firm persuaded its customers to use planted orchids which will last for three weeks, instead of fresh flowers.
The plants will still need to be watered. To get around, Miss Hopkins said: "Two of the guys are going out on cycles, two of the girls are going out in the City area on public transport and I've employed a friend of mine to take me on the back of his motorbike."
Miss Hopkins admitted the prospect of riding pillion carrying water spray and leaf shine was something she was "half looking forward to and half not".
National Tyres and Autocare
Mark Creasey is the branch manager of a garage on a street which was made one-way on Monday.
Located on Greenwich High Road in south-east London, if customers miss the turn for the business, they are forced to drive about two miles on the one-way system to get back.
Mr Creasey said: "We're losing a lot of passing trade."
He said: "On average we would have 15 to 20 cars a day. On Monday we had seven or eight. It's usually our busiest week of the month."
The nearby North Pole Bar and Restaurant has been unable to receive deliveries this week. Supplies will have to come during the night instead.
Greenwich Fitness
Matt Wakefield set up his business, a small personal training studio, in January.
He said: "I think the Olympics is a massive positive for London and for sport in this country but it's going to make it difficult for me to cover my costs.
"I'm expecting to lose between a third and 50% of my clients."
He is planning to open for only one day in the first week of the Games and two days the next because his clients, travelling mainly from the City and Canary Wharf, will not be able to get to him.
His gym is in Westcombe Park Road, Greenwich, south-east London. The nearest DLR station, Cutty Sark, will be closed every day there is an event in Greenwich Park, said Mr Wakefield, and there would be fewer trains running from central London to Maze Hill.
He said: "With the Games Lanes and the parking restrictions it doesn't make sense for people who don't live here to travel here."
Limelight Sports
Realising the huge challenge of avoiding traffic during the Games, sports agency Limelight Sports set up a service whereby workers can jog home from the office and their bags are transported for them.
Diccon Loy, said there will be 44 runs organised for the Olympics and up to 250 people could take part in each one. He said: "We saw a 50% increase last week in the number of runners and we expect the same again this week."
Mr Loy says the agency has received inquiries from around the world.