French Olympians foxed by Games Lanes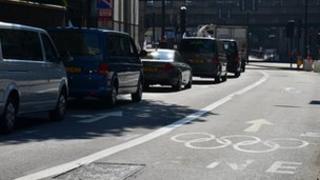 If one image could sum up the gentle confusion over Olympic Games Lanes, this was surely it.
A convoy of cars carrying French athletes and officials crawled through central London, enmeshed in a fiendish traffic jam.
To their right: a pristine Games Lane set aside for the exclusive use of the so-called "Olympic Family", much to the chagrin of many Londoners.
Alas, it appeared no-one had told the Gallic branch of the lineage.
So off they went, trundling east in the direction of the Olympic Park at 2mph, perhaps even grousing at the infamous London traffic.
One hopes for the sake of the French that their sprint relay tactics are a little more well-honed.
And yet, the odd pinch-point aside, there was a surreal lack of congestion in much of central London as the lanes came into force.
Traffic was flowing through the City of London with an almost ghostly smoothness.
Waterloo and Southwark bridges were bereft of cars; even the Embankment, home to one of the longest Games Lanes, saw eastbound traffic moving at a steady enough pace.
Day one of the Olympic driving restrictions seemed to be going rather well.
"I think it is quite co-ordinated," said journalist Motoi Araki, from Japan - a country which knows a thing or two about vastly-overpopulated cities.
Co-ordinated. Co-ordinated. And he was talking about London. Say it to yourself: the word seems strange and foreign on the tongue.
It is certainly not an adjective many of Her Majesty's Press were expecting to deploy.
Mr Araki, a bureau chief at TV Asahi Corporation in the city to cover the Olympics, rubbed his chin warily as he watched police directing traffic around Parliament Square.
With a few minor wobbles the stream of vehicles was parting around one of the feared lanes like the Red Sea.
"I thought it would be more congested," he confides.
"It's hard for us to find a story."
Of course, for a Londoner, this is the story - witnessing the never-before-seen spectacle of the capital's road network functioning fairly well.
"We'd expect it to be carnage on the first day," said a PC directing traffic down Whitehall. "But it seems to be going OK. People aren't getting frustrated.
"The frustration will only begin when it gets hotter."
'Chaos for nothing'
There was a carnival atmosphere on Westminster Bridge, and not a single private vehicle to be seen - for minutes at a time.
Frankly it felt like a major improvement on the normal run of things.
Yet confusingly, the bridge did not appear to even be a Games Lane. There were no signs, no road markings, nothing. So where were all the cars?
On the south side of the river the answer became clear.
A sign on Lambeth Palace Road was warning people not to turn left on to the bridge, the menace of those five Olympic circles proving a sufficient deterrent.
This left traffic trailing back along the Thames... for a Games Lane that never fully materialised.
Michael Lamberth, 31, a builder working at St Thomas's Hospital, said: "It's been like this all morning - and the sign is just causing chaos for nothing.
"I don't suppose you can sort me out with an Olympic route home?"
But the traffic was moving swiftly enough to avoid the frayed tempers, blasting horns and persistent, low-level griping the capital was surely braced for.
Party atmosphere
It seemed a fitting microcosm of the morning on the roads in central London: mild confusion, the odd tailback, but all underpinned with an air of stupefied and disbelieving relief.
Put simply, it was not that bad.
And there was no denying that there was a heck of a buzz on the streets too.
Thousands of grinning tourists milled up and down, teams of saucer-eyed athletes were out sightseeing, a clutch of helicopters buzzed overhead.
Soldiers and police were also out in force - but chatting amiably with the public and enjoying the reliable British summer.
At times it was a real party atmosphere; and the Games have not even begun yet.
Bring it on.