London 2012: Plans submitted for Olympic Park site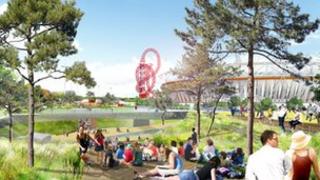 A "new part of London" will be created in the Olympic Park after the Games under plans submitted by the London Legacy Development Corporation.
The South Plaza, in the park's southern end, will cover a 28-acre space between the Aquatics Centre, the stadium and the ArcelorMittal Orbit sculpture.
It will open in spring 2014, following the opening of the North Park in 2013.
The creation of the Queen Elizabeth Olympic Park is predicted to be one of Europe's biggest building projects.
Designed by James Corner Field Operation, the landscape architects responsible for the award-winning High Line in New York, the South Plaza comprises a series of outdoor "rooms".
Place to stroll
These will include an interactive "labyrinth" fountain, a carousel, performance place and a play area with climbing wall descending to the canal side.
Andrew Altman, chief executive of the London Legacy Development Corporation, said: "London is already further ahead in planning legacy than any previous Olympic host city.
"We aim to create the South Plaza as part of the 18-month transformation of the park after the Games from an Olympic site into a new part of London."
The London Legacy Development Corporation said the South Plaza would be "a place to stroll and people-watch", to contrast with the greener North Park and its lawns, wetlands and canal paths.
The news comes as a separate planning application to develop a visitor centre and recreation area in the north of the park was given approval.