Haringey Council's plan to rebuild Tottenham after riots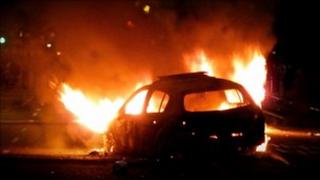 Five thousands jobs could be created under plans to revitalise Tottenham in the wake of last year's riots.
Parts of the area were destroyed last August when rioting broke out after the fatal shooting of Mark Duggan.
Haringey Council's plan also involves building 10,000 new homes by 2025.
The council said along with the Mayor of London, £41m has been invested initially while the Tottenham Hotspur development was worth £430m.
The plan is the council's vision for the area until 2025.
The regeneration will focus on:
Developing areas including Northumberland Park, Tottenham Hale, Tottenham Green and Seven Sisters, and the High Road.
Generating a new town centre for Tottenham Hale
Creating a civic centre for Tottenham Green and Seven Sisters
A leisure centre at Northumberland Park, serviced by a new White Hart Lane station
Work has recently started on Tottenham Hotspur Football Club's development plan, which will see a new stadium built and parts of the surrounding area regenerated.
Council leader Claire Kober said: "This is a huge plan not just about how do we fix Tottenham, but how do we build back better, how do we provide a Tottenham moving forward that's better than Tottenham today."
She added the council had already secured planning permission to restore many of the buildings destroyed in the riots.
"A lot of building work has started but we want to attract more high street names to Tottenham; we want to provide more and better housing for people and we want to ensure people have access to really good leisure opportunities."
'Too many chain stores'
But Moaz Nanjuwany, chairman of the Tottenham Traders Partnership who also runs an opticians, said to kick start the local economy, the council should help independent shop owners rather than chain stores.
"What's important is that if we involve communities, then young people will have an identity to the area. If we have too many chain stores and big companies, then there is no identity and nobody has a sense of belonging.
"It would cause an alienation which brings a disharmony, discord and discomfort here."
One local resident disagreed, telling BBC Radio 4's Today programme that "local community shops were really expensive".
He said he welcomed big businesses such as supermarkets because it would bring down prices and provide jobs.
The riot in Tottenham started after Mark Duggan was shot dead by the police.
It then spread to other parts of London and across England.