Year after riots: Judge 'disappointed' by parent absence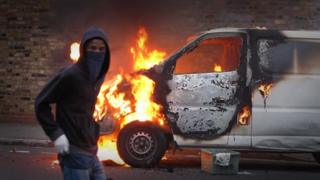 Last year's riots left many in society anxious about the state of some children's upbringing and their level of criminality.
Some of the most shocking crimes were committed by those under 18.
According to the Ministry of Justice, 26% of those who later appeared in court in London were aged 17 or less.
Prime Minister David Cameron talked of "troubled families" and a "moral collapse".
On 31 July at Hammersmith Youth Court, west London, the BBC found delay in the system was a recurring theme.
At Camberwell Youth Court in south-east London on 1 August it was the absence of parents in court.
It is an issue that many in the youth justice system grapple with, says Hammersmith's District Judge Jeremy Coleman.
He believes parents should be "compelled" to come to court, adding: "The fact that you would let your child go to court without a parent absolutely tells you why they are in court in the first place."
Camberwell Youth Court looks more formal than Hammersmith. A blue velvet curtain hangs behind the bench with the Royal coat of arms and wood-panelled walls.
Learning of the BBC's presence in court for the day, District Judge Richard Blake said: "I'd like to see more press in court."
Knife on school grounds
A 13-year-old boy stands accompanied by a smartly dressed woman who describes herself as his support worker.
He wears a grey hooded top which looks baggy on him. He looks young for his age.
"Your mum couldn't come here today?" asks Judge Blake.
"She says she's tired of coming. She came here last week," he replies.
The boy admits possession of an offensive weapon on school premises.
The court hears that he took a seven-inch kitchen knife to school after learning his younger brother was being bullied.
"This was the day after his last court appearance. He goes into school with a lethal weapon. I think he poses a high risk of re-offending," says the judge.
"I'm very disappointed mum's not here. From what I've read about mum she's leading a very responsible life.
"She's seeking to improve things and there's a suggestion that she's despairing. Her other children have done well."
"I only carried it for safety," says the boy.
"You are still young enough to sort your life out and become someone your mother is proud to come and sit beside," the judge replies.
He gives him a 12-month Youth Rehabilitation Order - a community sentence with conditions which can include training and unpaid work and in this case includes education around the dangers of knives.
He resists placing him on an Intensive Supervision and Surveillance programme - the most rigorous form of supervision not involving custody - because it would mean mixing with older, more serious offenders during the summer holidays.
Riding a motorbike with no licence
A 16-year-old pleads guilty to driving a motorbike on a pavement without a licence or insurance and with no helmet.
"I'm sorry for my actions. I should have stopped at the police rather than trying to get away," says the boy, flanked by his father.
Between 2009 and 2011 the boy was seen regularly at the court, District Judge Blake says.
"Is that a good thing or a bad thing?" his father asks.
"I'm attending college again this year so I'm sort of on the right track," the boy says.
He is given a £100 fine and disqualified from driving for six months which means he cannot apply for a driving licence on turning 17.
Asked how he will pay the money, he says he will pay £10 a week from his pocket money.
Knife on school grounds
A thin boy with his hair in a pony tail pleads guilty to having a folding pocket knife with a blade of three inches on school premises.
He is 17 and has been excluded from school.
His mother sits beside him. The case was put back to allow her enough time to arrive at the court. It is unclear why she is late.
The court hears that the boy's mobile phone had been stolen and to try to exact justice he intended to approach the boy who stole it at school.
District Judge Blake reads from a report which says the boy was aware his adversary carried a knife and thought he needed "protection".
He says: "This was a crazy thing to do, to take things into your own hands."
The boy was given a referral order last May. These orders lead to a contract with the Youth Offending Team seeking to prevent reoffending.
The judge thanks the boy's mother for coming to court and asks if she wants to say anything.
"It's been a mistake," she says.
Answering his subsequent questions, she says she is not working at the moment and that things are ok at home between the pair.
The case is adjourned until 22 August for a report to be prepared by the Youth Offending Team.
Riots theft
An 18-year-old man in a grey top and black jacket is led into the court to sit behind a glass screen.
He appears on a charge of theft after finding two sat-navs in Dennett Road, Croydon, south London, on 10 August during the London riots last year.
"You've lost weight," his mother, wearing a red flowery silk top, tells him snatching some conversation while the barrister, Jacob Gifford Head, gathers his case.
Mr Gifford Head says he has not been provided with all the relevant papers and asks the defendant how long he will be serving and what he did.
It transpires he is serving two years at Feltham Young Offenders Institute for two knifepoint robberies.
"Thank you for coming to court," says District Judge Blake to the mother. "It's my duty," she answers.
She tells the court her son has been "struggling" with being in custody.
"He was having illusions and all sorts of things going on in his mind because it's his first time in custody."
"It doesn't surprise me you've found custody difficult. I try to impress on people that it will be difficult," the district judge tells the man.
He says he is going to give him a six-month conditional discharge, which means he must not re-offend in that period once released from custody.
The judge impresses on his mother that once he leaves custody he will be on licence and it is very important he keeps its terms.
"I don't want you to have to nag him," he adds.
"Oh, I will," she responds.